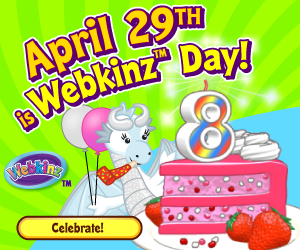 What better way could there be to celebrate Webkinz Day than by caring for your pet? The Webkinz Day Challenge runs from Webkinz Day on April 29 to May 31! Be sure to complete your Webkinz Day Challenge because there are some awesome prizes to be won!
There is even a special bonus level in the Webkinz Day Challenge exclusive to Deluxe members!
And remember, we'll be updating you on Webkinz Day celebrations on Webkinz Newz all week, so check back here tomorrow!