Looking for a tasty after school snack? You'll love these Banana Cookies, a recipe from our archive!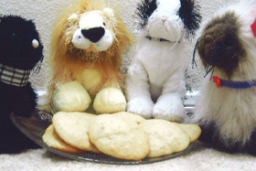 What you need:
2 ¼ cups flour
1 cup sugar
½ teaspoon salt
2 teaspoon baking powder
1/3 cup butter, softened
2 eggs, beaten
½ teaspoon vanilla extract
1 cup banana, mashed
2 bowls
Greased cookie sheet
What you do:
Preheat the oven to 350°F.
Cream the butter and sugar together, until light and fluffy. Add the eggs and vanilla. Add mashed banana.
In a separate bowl, mix together the flour, salt and baking powder and add to banana/butter mixture.
Drop teaspoons of cookie dough onto greased cookie sheet.
Bake for 15 minutes or until edges are golden brown.
Add a handful of pecans to mix things up!
Do you have a great idea for a craft, recipe or party game? We'd love to hear them!