Get ready to cool off this summer with a delicious drink from our archive! Goldie's Lemon-Lime Slushie is the perfect summertime treat.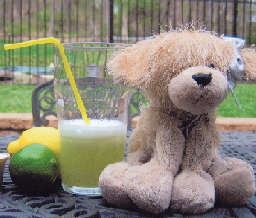 What you need:
1 lemon
1 lime
1/2 cup sugar
6 ice cubes
A blender
Knife
What you do:
Carefully cut the lemon and lime into fourths and squeeze out all the juice you can in the blender – try not to get the little pits mixed with the juice.
Add the sugar and ice to the blender.
Blend on high until all ice cubes are crushed, then pour into a glass and add a straw. Enjoy!
Try mixing other fruit juices in this slushie for a tasty treat!
Do you have a great idea for a craft, recipe or party game? We'd love to hear them!