What's a fun way to get ready for Thanksgiving? Mini cornucopias! This recipe from our archive makes a tasty treat!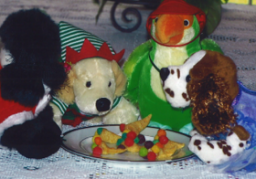 What you need:
Funnel shaped crispy corn
Fruit flavored round cereal
Peanut Butter
Spoon
Plate
What you do:
Fill each funnel shaped crispy corn with peanut butter with spoon.
Next dip the peanut butter side into the flavored cereal.
Place neatly on plate.
The best after school treat that is quick and simple to make!
Do you have a great idea for a craft, recipe or party game? We'd love to hear them!