Are you ready for spring? This tasty recipe from our archive based on the Secret Recipe in Webkinz World is a delicious way to welcome the warmer weather! One of our Webkinz World members has made a few of these recipes in real life, too!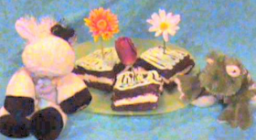 What you need:
1 box of brownie mix
4 – 6 large scoops of vanilla ice cream
Ice cream scooper
1 container of green frosting
3 – 9" square pans
4 silk flowers
Plastic wrap
What you do:
Line a square 9" pan with plastic wrap.
Place 4 – 6 scoops of soften vanilla ice cream, and spread evenly with a knife.
Place in freezer.
Follow the brownie mix box directions, and bake in two 9" square pans.
Allow brownies to cool before assembling your Shabloomers.
Place your frozen layer of ice cream over one layer of brownie and top ice cream with second layer of brownies.
Cut the brownie and ice cream cake into four equal squares and spread green frosting on top.
Lastly put one silk flower in the middle of each brownie ice cake and enjoy!
Remember, sharing your Shabloomers makes them even yummier!
Do you have a great idea for a craft, recipe or party game? We'd love to hear them!