Spring is in the air and Easter is around the corner. A perfect decoration is the Springtime Basket Chair, the Sherbet Bunny's special item!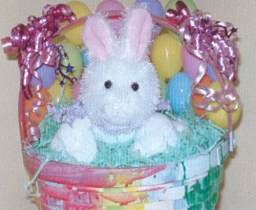 What you need:
48 plastic eggs
Paper grass
White wooden basket
Hot glue gun
Paint
Paintbrush
Curly ribbons
What you do:
Paint the outside of the basket with fun bright colors of your choice.
Hot glue plastic eggs side by side along one side of the basket between the handles. Continue gluing rows of plastic eggs till you reach the top of the basket handle.
Glue curly ribbons to the basket handle.
Fill basket with paper grass.
Have a blast this Easter with your new chair!
Do you have a great idea for a craft, recipe or party game? We'd love to hear them!