Thanksgiving is coming up soon… here's a decorating idea from our archive!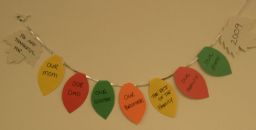 What you need:
Construction paper
Black marker
Scissors
Yarn
Tape
What you do:
Hand yarn on the wall.
Cut out leaf shapes from different colored construction paper.
Have all your dinner guests write a thing that they are thankful for, on each leaf.
Attach each leaf to the yarn with tape.
Start a new tradition, adding new leaves to the garland each year!
Do you have a great idea for a craft, recipe or party game? We'd love to hear them!