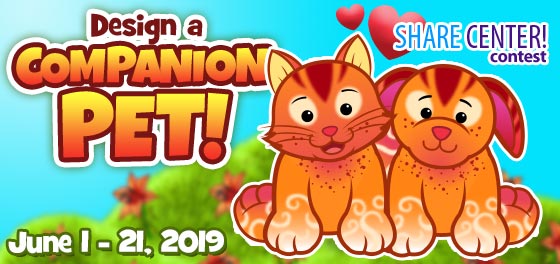 Introducing the new Tiger Lily Kitten – the perfect companion to our fan-designed Tiger Lily Pup. To celebrate the new Tiger Lily Kitten arriving in Webkinz World, we're inviting our players to design a companion pet for another pet in Webkinz World!
Between June 1 and 21, submit your design for a new pet that would make a perfect companion to an existing Webkinz pet in our Companion Pet Share Center Contest!
Here's how it works:
Select any pet in Webkinz World that you think would like a new friend.
Draw a new pet that you think would make a good 'companion' to the existing Webkinz pet.
You can use one of the templates provided below or you can create your own drawing.
Submit your drawing to the Companion Pet Gallery in the Share Center.
Be sure to let us know in the comments to which existing Webkinz pet your pet will be a companion.
Cross your fingers until June 24 to see if you're one of the finalists!
The winner will have their design turned into a real virtual pet in Webkinz World!  They will also receive a 1 Month Deluxe Membership to Webkinz,a virtual Pet Design Trophy and 1 code each for the following virtual pets – a Tiger Lily Kitten and a Tiger Lily Pup, and ten finalists will each receive a code for a 2019 Summer Super Mystery Bag courtesy of Ganz eStore.
A few things to remember:
You can enter as many designs as you want!
Contestants MUST upload their work to the Companion Pet Gallery on the GanzWorld Share Center.
You can use any kind of art supplies that you want – markers, pencil crayons, crayons, or freehand drawing programs on your computer.
You don't NEED to include ideas for this pet's adoption gifts (PSI & PSF), but feel free to draw them if you want.
We can't accept submissions with company logos or sports team emblems.
Please make sure you save your images as a jpg, gif, or png.