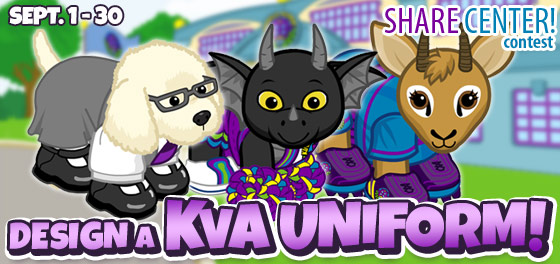 It's back to school time and we want to see your Fashion Forward ideas! This is your chance to design a new uniform for the Kinzville Academy! We welcome all types of uniforms – school uniforms, sports team uniforms, club uniforms, teacher uniforms, maybe even a school mascot! Who knows? Let your imagination decide!
The winning design will be made into a uniform (boy and girl versions) in Webkinz World, and the winner will receive a one year virtual Pet of the Month subscription! 9 Runners up will each receive a Fall Mystery Bag!
The contest runs from Sept. 1 – 30. You can enter as many designs as you want!
Contestants MUST upload their work to the KVA Uniform Gallery on the GanzWorld Share Center.
Never uploaded to the ShareCenter before? Don't worry! It's easy.  See how it's done!   You can use any kind of art supplies that you want. Feel free to use markers, pencil crayons, crayons, or other art materials. Go for it!
While we will not accept images that have computer generated patterns or graphics copied and added to them, participants may use programs like Paint or Photoshop to color and draw freehand.
We can't accept submissions with company logos or sports team emblems.   Please make sure you save your images as a jpg, gif, or png.
Click here for full contest rules.