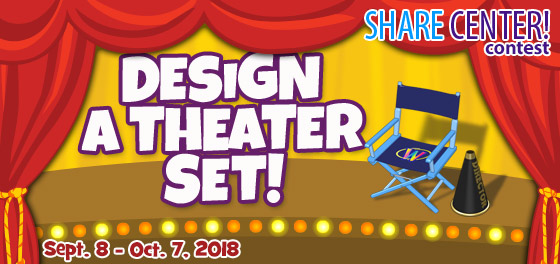 The KVA drama club has been holding auditions with Ms. Cowoline giving out costume pieces at the Park, and now we need some sets for the big play! We want YOU to design a set for a play and submit it to the Share Center! The theme of your play can be whatever you want!
The grand prize winner will receive a virtual Room Design Trophy and a Night at the Theater Package courtesy of Ganz eStore. All ten finalists will each receive a Theater Usher Cap and Jacket.
Entry is open until midnight EST on October 7. Then we will narrow the choices down to ten finalists and post them on Webkinz Newz to let you have your say!
It's easy to participate! Just follow these four easy steps…
1. Design a theater set in one of your pets' rooms. The theme of your play can be whatever you want!
2. Take a screen shot of your theater set.
3. Upload the screen shot to the Theater Set Gallery on the on the GanzWorld Share Center any time between Sept. 8 and Oct. 7.
4. Cross your fingers until October 9 to see if your room is among the finalists!
5. The winner will be announced on October 20, 2018.
Remember,
You can enter as many designs as you want- the more submissions the merrier!