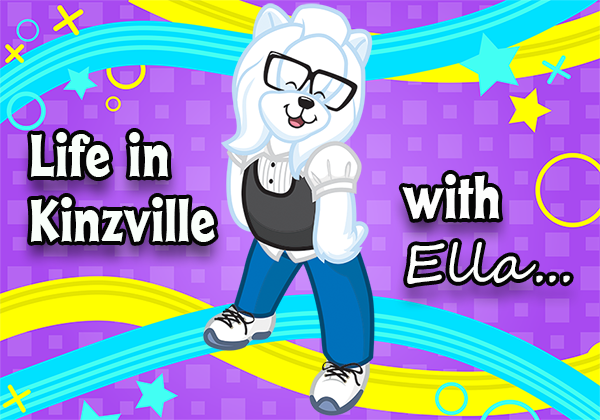 Hey everyone! I hope you're all thinking about Halloween… I know I am! I kinda previewed what I'm going to be already… if you saw Sally Webkinz's article on Halloween Candy, you might have spotted me in my outfit already — a Candy Corn Witch!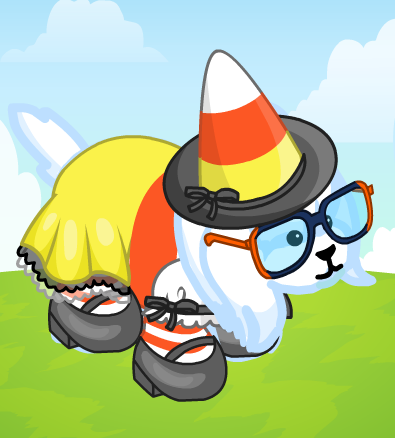 I paired the new Navy Frames, and I think it's totally adorable! I'm definitely ready to go trick-or-treating.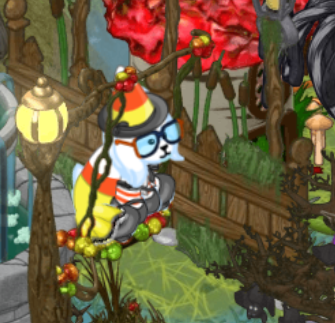 Seeing as how important a costume is to the holiday, I thought I'd have a chat with the resident clothing expert, PJ Collie!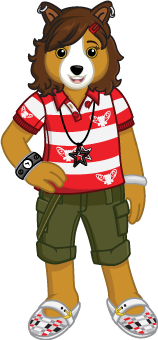 ELLA: Hi, PJ! Thanks for taking the time to chat with me.
PJ: No problem, Ella, I always have time for you. Nice glasses, by the way.
ELLA: Thanks! I just wanted to know what your plans were for this Halloween. Will you be dressing up and going trick-or-treating?
PJ: I'll definitely be dressing up… but trick-or-treating? Halloween is one of my busiest times of year! I'll be helping my customers pick the perfect Halloween costume… even if they show up on October 31!
ELLA: That's awesome! What kind of DIY costume would you recommend for someone who maybe isn't feeling the current set of costumes?
PJ: I get it…. maybe you want to do something all your own, or just want something a little more custom. A good place to start is with the top of your head! The Cowboy Hat and Desert Amethyst Hats are great beginnings to a western-style costume. Or, you could go with the Lovely Leopard Cat Cap and make a purrfectly purple feline! There's a princess cap, a top hat, a tiara and a wizard hat… all you need is your imagination.
ELLA: That sounds great! Is there anywhere else I can get something cool to wear?
PJ: Well, you'll definitely want to keep an eye on the Curio Shop — there's some pretty awesome wigs that show up from time to time, or even a chef's outfit! You can sometimes find cute clothing pieces as prizes on the wheels and special activities, and if you know any of the secret clothing recipes, you can even make some yourself! If you've filled your berry collections, there are some really sweet clothing options as prizes in Jumbleberry Fields.
ELLA: And of course, there's going to be the floating Jack o' Lantern starting on October 15, which will give away some pieces from our older costumes… then you can always mix and match for something unique!
PJ: That sounds like a great idea, Ella. I think you've got Halloween covered.
ELLA: Thanks again, PJ!
So there you have it. What are you planning to dress your pets in for this Halloween? Let me know in the comments below.. and I hope you send all of the pictures in to webkinztrendz@ganz.com !
Until next time, it's been real!
XO
Ella