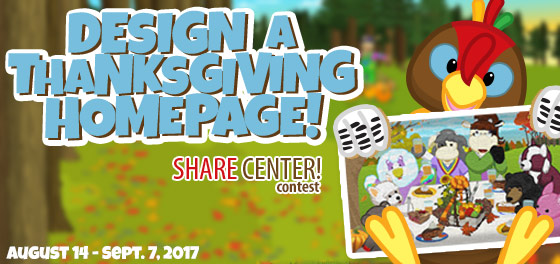 Good news!!! We have extended this contest to September 7!

To give thanks for the creative and talented Webkinz Community, our new Share Center Contest invites you to design the image for our Thanksgiving Home Page!
Create your own vision for our Thanksgiving Home Page and upload it to the Share Center. If your design is selected, you will receive a 1 Year Deluxe Membership to Webkinz. Nine runners up will each receive a 1 Month Deluxe Membership.
Here's how it works:   The contest runs from August 14 after 9 am, to September 7, 2017. We will announce ten finalists on September 8, 2017 when we want to hear what YOU think of the designs. The final decision will be up to the Creative Team at Webkinz but we will take your input into account before we announce the winner on the last day of the Super School Giveaway on September 15, 2017.
A few things to remember…   You can enter as many designs as you want!   The approximate dimensions of the image are 11×5.5 or 1400×800 pixels BUT image must be saved at a smaller size for uploading to the gallery. The winner will be asked to supply a high quality scan of the original image at a larger size. We have provided a template but you are not required to use our template as long as your artwork fits our dimensions.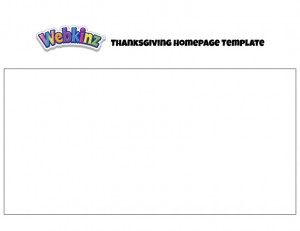 Also, please note that some content will be covered by an ad and by the Webkinz logo and 'Play' button (see example below). While there must be some content in those areas – don't leave it blank – keep in mind that it may be covered so try not to put important content there.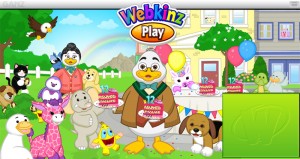 Important: In order to reproduce it at a high quality on our site:
Although the image must be saved at a smaller size for uploading to the Share Center the ORIGINAL image must be created at as close to size as possible (11 x 5.5) or larger

Winner MUST be able to provide us with a high quality scan of the original full size via email upon notification of winning. We cannot use the smaller sized upload version.
Contestants MUST upload their work to the Thanksgiving Homepage Design Gallery on the GanzWorld Share Center.
Never uploaded to the ShareCenter before? Don't worry! It's easy. Just watch this video to see how it's done!   You can use any kind of art supplies that you want. Feel free to use markers, pencil crayons, crayons, or other art materials. Go for it!
While we will not accept images that have computer generated patterns or graphics copied and added to them, participants may use programs like Paint or Photoshop to color and draw freehand.
We can't accept submissions with company logos or sports team emblems.   Please make sure you save your images as a jpg, gif, or png.
Click here for full contest rules.