It's me, Fiona, back for another round of fan mail! As always, for my past answers, click here! If you miss me, you can always head to KinzPost and send a letter or a package, and I'll deliver it for you! Don't forget, you can add me as a friend by going to KinzChat and adding Fiona Feathers (include the space!).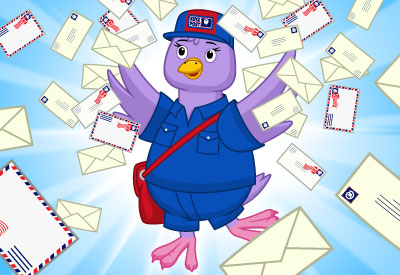 Ok. So I have been waiting a long time to ask you this question. I missed the make a new webkinz challenge and I thought that you could take some possible interest into this new *possibly but probably not* webkinz I thought of. Could I send you a picture of my drawing and get back to me soon? Thanks, I would really appreciate it. – Cashdog2006
Hi, Cashdog2006! You have a couple of options — you can submit your suggestion to the Fan Art section of the Share Center, wait for the next pet design contest, or send it to webkinzsupport@ganz.com (they can then pass it on to the creative department). Unfortunately, you won't get a response to your suggestion, but we're always happy to receive them!
Hey Fiona! Are there any plans to add new games to the tournament arena? That would be really exciting! -itswebkinztime

Thanks for your suggestion, itswebkinztime. Is there a particular kind of game you're hoping to see? Can't make any promises, but you never know!
Dear Fiona, I have been robbed : ( I was using my Wish Tokens to buy the Cabin Window, and it got stuck, and when I went back into my account- it had taken my 40 tokens and never gave me my window!!! Can you help? My account name is Happy Campers. Thanks for helping!!!!! – HartLakeKids
Sorry to hear that, HartLakeKids! Whenever you encounter something like this, your best bet is to send an email to webkinzsupport@ganz.com so they can investigate.
Want to write to Webkinz?
Send your letters to:
Ganz #04360 Industrial Parkway
Cheektowaga, NY
14227-9903
Have more questions? Ask them below and you might be featured in the next edition of Fan Mail with Fiona!