It's me, Fiona, back for another round of fan mail! As always, for my past answers, click here! If you miss me, you can always head to KinzPost and send a letter or a package, and I'll deliver it for you! Don't forget, you can add me as a friend by going to KinzChat and adding Fiona Feathers (include the space!).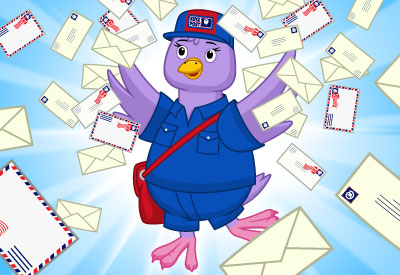 Hi! I've wondered for several years what Polarberry tastes like/what you'd imagine it to taste like. It looks so delicious, and it's the greatest of all the berries! At least, in my opinion (: A friend of mine would also like to know What Goo Goo Berry tastes like. – Wysteria
What a wonderful question, Wysteria! I decided to taste both a Goo-Goo Berry and a Polarberry and see for myself. The Polarberry reminded me a bit of blueberry, but with a hint of mint! It was juicy and refreshing… and made my mouth feel cold. The Goo-Goo Berry was very chewy — kind of like a bubblegum texture, and each chew tasted a bit different… a little bit of strawberry… a little bit of kiwi… even a little bit of banana. I have a feeling that these special fruit probably taste different to everyone who tries them!
Dear Fiona, could you tell us the best ways to get exclusive items? If we send a letter to Webkinz (to the address listed) what will happen? – snowpuff529
Thanks for your questions, snowpuff529! I'll answer your second question first… if you send it to the address listed below, it will eventually get forwarded to my office, and I might pick it to post here! (Comments are obviously faster, and don't require postage!) As for your first question, here goes:
There are a few ways you can get your own Exclusive items. 1.) You'll get a random Exclusive item with every pet adoption. 2.) You can collect and redeem Wish Tokens in the Wish Factory to get the Exclusive item of your choice. 3.) If you get three Wishing Wells in the middle of row of Wishing Well 2, you can pick the Exclusive item of your choice. 4.) You can trade for one in the Trading Room.
Hope that helps!
Hi Fiona! I really love the game "Hatch the Dragon," but I'm not a Deluxe Member and aren't really interested in becoming one. In the mobile app, I can buy a Deluxe game for 2500 eStore points. If I do this, will it also be unlocked on the desktop version? – OfficialSassy
I like Hatch the Dragon, too! When you unlock a game on the mobile app, it only applies to the mobile app — you would still need a Deluxe membership to play the game through the browser or the Desktop app. The Desktop app is not a version of the mobile app, so they don't share that kind of information. But once you've unlocked it on mobile, you'll always have access to the game through the mobile app, whether you've got a free, full or Deluxe membership!
Want to write to Webkinz?
Send your letters to:
Ganz #04360 Industrial Parkway
Cheektowaga, NY
14227-9903
Have more questions? Ask them below and you might be featured in the next edition of Fan Mail with Fiona!