It's me, Fiona, back for another round of fan mail! As always, for my past answers, click here! If you miss me, you can always head to KinzPost and send a letter or a package, and I'll deliver it for you! Don't forget, you can add me as a friend by going to KinzChat and adding Fiona Feathers (include the space!).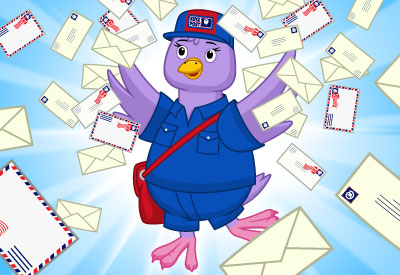 Dear Fiona: What rooms are "The Runway Room" and "The Restaurant" in the KinzChat+ Clubhouse? My pet is always asking to go there. I don't see them listed. – weeniesmom
Thanks for the question, weeniesmom! Those are Clubhouse rooms that used to appear in the Clubhouse. The Runway Room let you show off your pets outfits and the Restaurant was somewhere you could go to pretend that you're in a Restaurant, just like the School room. With any luck, you might see some of those rooms soon.
Dear Fiona, how can I earn estore points? – catlovers
Right now, the only way to earn eStore points would be to get them as Helping Paws rewards. Otherwise, you have to purchase eStore points from Ganz eStore.
Hi Fiona! What's your favorite game in the arcade? – twinners1
Oh! Thanks for the question, twinners1! I think my favorite game has to be Whimsy Skies. What can I say? I just love to fly!
Want to write to Webkinz?
Send your letters to:
Ganz #04360 Industrial Parkway
Cheektowaga, NY
14227-9903
Have more questions? Ask them below and you might be featured in the next edition of Fan Mail with Fiona!