It's me, Fiona, back for another round of fan mail! As always, for my past answers, click here! If you miss me, you can always head to KinzPost and send a letter or a package, and I'll deliver it for you! Don't forget, you can add me as a friend by going to KinzChat and adding Fiona Feathers (include the space!).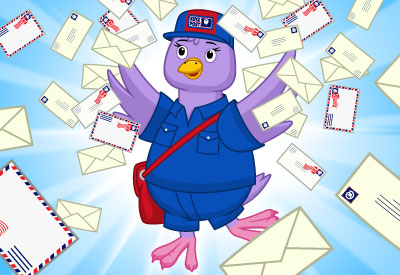 Fiona, can you please find out what happened to the Creamy Vanilla and Tangerine Toy Boxes? – megamom12
Hi, memgamom12! There are a few Cream-colored and Tangerine items that were added as Webkinz Newz prizes many years ago — they go with the existing items in the W Shop. You might see them pop up in a Peek-A-Newz prize pool or in one of the Mystery Prizes you can get from Today's Activities in Webkinz World.
Fiona, do certain games only award certain pet medallions? I know there are common, uncommon, and rare, but are certain common medallions only available on certain games? I can never seem to find the pig. – kinzklipfan
Any game that awards Medallions will award from the same prize pool — and that includes the Pig! The only pets you won't find in the regular prize pools are the Kiwi and the Snowy Retriever. Hope that helps, kinzklipfan!
Hey Fiona! Do you know what happened to the Toadstool Theme Dining Table, "Hidden Doorway Dining Table"? I checked in the wshop and could not find it. Was it retired? Thanks so much!! – Trader101
Thanks for letting us know, Trader101! It looks like that item wandered off. It should be back in the W Shop now.
Want to write to Webkinz?
Send your letters to:
Ganz #04360 Industrial Parkway
Cheektowaga, NY
14227-9903
Have more questions? Ask them below and you might be featured in the next edition of Fan Mail with Fiona!