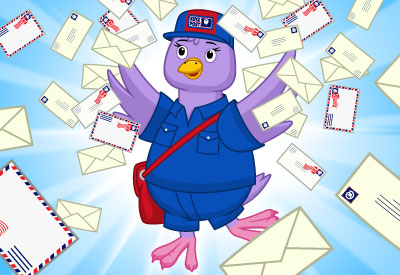 My lovelies! It's me, Fiona, your KinzPost Courier and answerer-of-letters! I'm back after a little while away (even I need a LITTLE time off) but I'm back to answer more of your questions. To read my previous Fan Mail responses, click HERE. Now, onto the main event!
Hi Fiona,
I post comments on Webkinz Newz when I want to trade with other players, but sometimes they don't show up! Where do my comments go?
Amelia in California
Howdy, Amelia! Firstly, thanks for participating on our comment boards — what a lively community we have here! I went and asked our Webkinz Newz Moderation Team your question and they responded, "Trading talk and requests for free items will no longer be approved on the Webkinz Newz comment boards. However, we've created a special forum JUST for trading talk where anyone can feel free to participate and look for items they want or need, or offer items to others. Go the Forums tab and click "Trading" or click here for a direct link. Keep in mind that forum comments are also moderated by our team, so the same Webkinz Newz Rules and Regulations apply there, too." Thanks, Moderation Team!
I have a few questions! 1) Where can I send suggestions? 2) Is Amazing World an MMO? 3) I know you can change your pet's name if it's inappropriate or contains a secret code, but is there any way to change it if you named it something really REALLY stupid?
– rainelda
Thanks for your question, rainelda! It's a 3-parter, whew! Here goes…
1) You can leave suggestions in the comment section on any Webkinz Newz article OR, even better, leave it in the Suggestions forum, right HERE. Our creative team reads your suggestions regularly.
2) Amazing World sure IS an MMO! MMO stands for 'Massively Multiplayer Online game'. It means that when you play, you can run around a whole world where OTHER people are playing live, too! You can chat with people, make friends, play team challenges, decorate your space and more. Plus, we work very hard to make it a safe place for kids to play.
3) I'm really sorry I don't have a better answer for you, but the truth is… you're right! We can change usernames if they contain anything inappropriate or a Pet Code, but we cannot change it for any other reason. What's your favorite pet name you've ever come up with?
I need help putting together a vintage room, can someone help me find the right items?
– bluemonkey
This is where the fantastic Webkinz Newz community comes in! Can anyone help out bluemonkey with some great item ideas for a vintage room? Plus, if you're ever looking for room decorating inspiration, Michael Webkinz's Let's Build videos are a great start!
Want to write to Webkinz? Send your letters to:
Ganz
#043
60 Industrial Parkway
Cheektowaga, NY
14227-9903