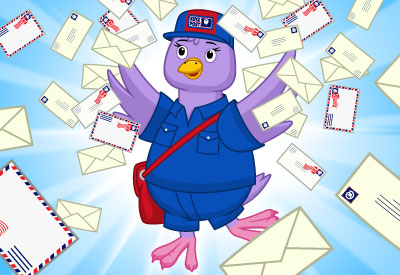 Hello my lovelies! It is I, Fiona Feathers, your humble KinzPost Courier, and I'm here to answer more of your questions! You can find my previous answers here. Let's dive in!
Fiona, when can we see more quizzes? And I really miss Treasure Hunt on Ganzworld?
– natalie13
We do appreciate when you wonderful folk write in and tell us what you miss or would like to see on Webkinz Newz! I'll share your suggestions with the creative team, my friend!
I have a Bloomin' Desk Lamp but it's not in my dock because it's stuck in a room. The lamp looks like it's there but it's not; my pets can walk over it and I can place furniture over it but it still shows as there. Can it be put back in my Dock?
– 1Eeyore
Sorry to hear you're having trouble with the pesky lamp, 1Eeyore! When a little oopsie like this happens, your first stop should be the Webkinz Customer Support team. You can report your stuck item by submitting a ticket here OR you can email the team at webkinzsupport@ganz.com. If you email, be sure to describe your issue with the most detail possible and include your username!
Hello Fiona! I am kind of new to KinzChat Plus but I don't really have any friends mostly because I am kinda shy to go up and say hi to people in the clubhouse… Do you have any suggestions?
–Uno8schroo
I sure do! Firstly, don't be afraid to say hello to fellow Webkinz players in the Clubhouse, as many are quite friendly! If you do encounter someone breaking the rules of conduct in the Clubhouse (like being rude or inappropriate), be sure to report them immediately. Here's how. Also, Webkinz Newz is a great place to meet and friend fellow players. My three pieces of advice? Be careful with whom you share your username, NEVER give out your password, and change your password frequently. Once you've made these new friends, however, why not meet up in KinzChat Plus as a group? I'm sure you'll meet lots of fun folks that way! Stay friendly and welcoming to others, and friendships will surely follow.
Want to write to Webkinz? Send your letters to:
Ganz
#043
60 Industrial Parkway
Cheektowaga, NY
14227-9903