It's me, Fiona, back for another round of fan mail! As always, for my past answers, click here! If you miss me, you can always head to KinzPost and send a letter or a package, and I'll deliver it for you!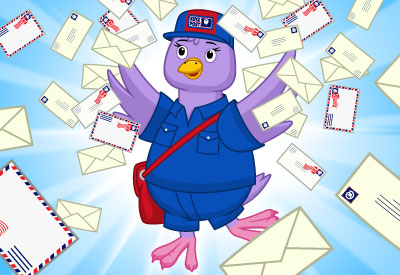 Dear Fiona I would still like to know why it takes some of my pets so long to fill their hearts? And others fill -up fast?  - natalie13
Thanks for your question, natalie13! Some pets fill up faster than others because they are making requests, and every time they make a request and you do what they ask, you get a big boost! If your pets aren't making requests, then you'll get the usual number of family score points for taking care of them. Pets don't generally make requests when they're sleeping, so make sure they're out of bed if you want to fill up those hearts faster!
Hi Fiona, Are there still super tokens for the Wish Factory? I remember getting them but haven't had one in quite a while. Once I got one worth 10 tokens! That would help us get those higher cost items. Thanks. – lovelyhorses4
Super Tokens are exciting, aren't they? You never know which one of your Wish Tokens will be one either — not until you deposit it into the Wish Factory!  You might even win the trophy… but to answer your question: Yes! Super Tokens are still around. Remember, there's a chance to win Tokens every time you play the logout games, and keep your eyes on the Wheel of Wishes on the Today's Activities page for more chances to win.
Hey Fiona will we ever be able to add friends on the app? We have the mailbox but not the phone or the thing that tells u if they said yes or no to be ur friend. 
And will there ever be a trading room on the app. I would really love to have the trading room on the app more than anything else. The trading room is one of my favorite parts of webkinz but now it is gone due to my computer being broken. I can only play on the app. I really miss it. And my friends said they miss seeing me there. :-( please make there be a trading room. And thanks for all that you do Ganz :) – greenmagic77
Hey, greenmagic77 — I combined your questions because they have the same answer! We are planning to add all kinds of things to the mobile app. In fact, one day both the app and the website will have all of the same features! We're updating the app one section at a time, so it might be a little while, but one day you'll be able to do everything on the app.
Want to write to Webkinz?
Send your letters to:
Ganz #04360 Industrial Parkway
Cheektowaga, NY
14227-9903
Have more questions? Ask them below and you might be featured in the next edition of Fan Mail with Fiona!