It's me, Fiona, back for another round of fan mail! As always, for my past answers, click here! If you miss me, you can always head to KinzPost and send a letter or a package, and I'll deliver it for you! Don't forget, you can add me as a friend by going to KinzChat and adding Fiona Feathers (include the space!).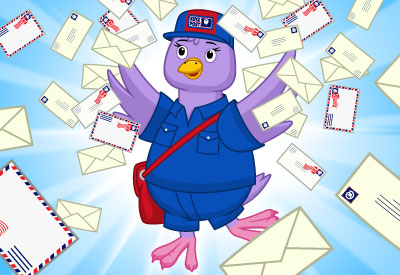 Hello. Does Anyone Know if There is a way to Send Fiona an Email Instead of Snail-Mail??? – FindingCorgi
Sorry, FindingCorgi! I don't have an email address… but I do read the comments, so you're welcome to ask your question there.
Fiona, for some reason I can't play the arcade games that require the arrow keys…they just don't work! My arrow keys work perfectly fine elsewhere though so what do you suggest? I've been stuck on a challenge that requires me to get kinzcash in Color Storm for a long time -Nicthewerecatqueen
Oh, that's an odd one, Nicthewerecatqueen! If you have a full sized keyboard, you might want to try turning off Number Lock and use the arrows on the number pad. Also, I see someone else suggested trying a different browser — that's definitely something I'd try, too! Lastly, if you happen to have a spare hanging around, you might want to try a different keyboard, just in case.
Dear Fiona, Waiting for Floaty-Clickies can be quite tedious. Other than going to the Clubhouse or the Park (which I also find boring), what other activities do you recommend to whittle away the time while catching them? Thank you, your friend, Powerann.
Hello dear Powerann! When I'm waiting for floaties, I like to take care of some gardening and some room organizing. I'll design (or redesign!) rooms, or create storage rooms. I have a Pet Care room and spend time filling up all my pets' hearts. Sometimes I'll clear out my dock and sell things back to the W Shop while I wait. It can be tricky sometimes, but you can go to the Employment Office and the Kinzville Academy to do those dailies while you wait — it's only while you're playing an arcade game that the floaties don't appear.
Want to write to Webkinz?
Send your letters to:
Ganz #04360 Industrial Parkway
Cheektowaga, NY
14227-9903
Have more questions? Ask them below and you might be featured in the next edition of Fan Mail with Fiona!