It's me, Fiona, back for another round of fan mail! As always, for my past answers, click here! If you miss me, you can always head to KinzPost and send a letter or a package, and I'll deliver it for you! Don't forget, you can add me as a friend by going to KinzChat and adding Fiona Feathers (include the space!).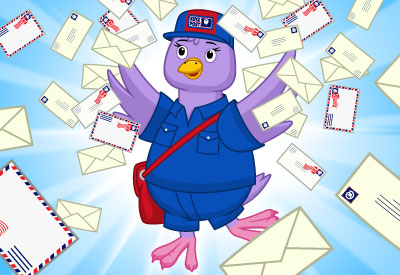 Hi, I was wondering why my old account was 'expired' Webkinz is my favorite and I was wondering if it was ever possible to still have that account. Thank you – Sneally123
Hi, Sneally123! Let's see if I understand the question — you see, Webkinz World accounts don't really expire the way they used to anymore. Once your full membership expires, you can still play as a free player! But if you haven't logged in a long time, a few other things might happen. After 18 months, your account is archived. If you try logging in, you'll get a message that your account has to be retrieved from the archive, but you should be able to log in normally after 24 hours or so. If your account has been inactive for 7 years, we are legally required by privacy laws to delete the account. In that case, you would not be able to retrieve your account. If you do not remember your username and password, please get in touch with webkinzsupport@ganz.com
What ever happened to the game Bamboo Break? From what I've heard it was only around for a couple years, and when it was removed from the Arcade, people thought it was just being updated, yet it never returned. Is the game officially retired or is it possible that it will return? – CheekyCat
Thanks for the question, CheekyCat! Bamboo Break was retired. While there is a possibility it might return one day, there aren't any immediate plans to do so.
Dear Fiona, what kind of dog is Arte? He kinda looks like a Labradoodle. =D – FoxesRule612
Not quite, FoxesRule612! Arte is, in fact, a golden retriever… just like his nephew Sparky!
Want to write to Webkinz?
Send your letters to:
Ganz #04360 Industrial Parkway
Cheektowaga, NY
14227-9903
Have more questions? Ask them below and you might be featured in the next edition of Fan Mail with Fiona!