It's me, Fiona, back for another round of fan mail! As always, for my past answers, click here! If you miss me, you can always head to KinzPost and send a letter or a package, and I'll deliver it for you! Don't forget, you can add me as a friend by going to KinzChat and adding Fiona Feathers (include the space!).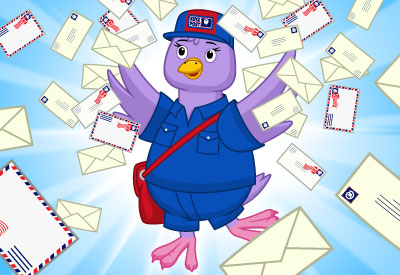 Hi, Fiona. I've sent ganz support e-mails regarding being stuck on a quest in Adventure Park (due to technical difficulty) and the changing of a pet name (as I inadvertently pasted my pet's code for her name) over a month ago and no response nor fixing of these issues. I don't want to be a nuisance and re-send my e-mails as I know they are busy. How long do you recommend before re-sending or should I just be more patient?? Thanks! – kadielle
Thanks for your question, kadielle! Our customer service team is pretty swamped right now with so many people trying to get their archived accounts back, so it is taking a bit longer than usual for them to get back to people. If you emailed webkinzsupport@ganz.com and didn't get a response, you might want to use our ticketing system to make sure your message was received and you're in the queue.
I am unable to find the red-yellow-green-blue-purple path tiles shown with one of the cottages. Want to purchase them at store. If you know please respond to me. Thanks – itmustbenice
Oh, I love those rainbow tiles, too, itmustbenice! They're one of the prizes from the 2019 White Chocolate Eggs. The Eggs are still available at Ganz eStore for purchase, but you can also try trading for the tiles in the Forum or in the Trading Room in the Clubhouse.
I have been unable to ask friends for flowers, nor collect the floating one. I hope it works tomorrow. – Gramkins
The Flower Collection is still going, Gramkins, so I wanted to make sure that this got answered. If you're using Edge as your browser, you may have difficulty with collection events and special wheels, like the Super Wheel. Our supported browsers are Chrome and Firefox, so if something isn't working, you should try those. Also, in some cases, the invisible part of the dock will extend over buttons when you're using a particularly tall pet with a tall hat — you should also try hiding your dock.
Want to write to Webkinz?
Send your letters to:
Ganz #04360 Industrial Parkway
Cheektowaga, NY
14227-9903
Have more questions? Ask them below and you might be featured in the next edition of Fan Mail with Fiona!