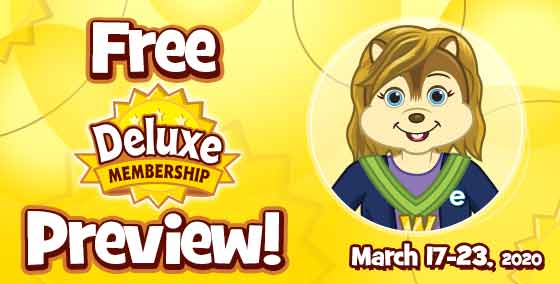 Webkinz has some exciting news for Free and Full players! We're excited to announce that we are kicking off Spring Break this year with a special treat!
From March 17 to 23, 2020 Webkinz is offering a FREE Deluxe Preview Week! For one week, all members will enjoy the benefits of Deluxe membership!
Get a feel for Deluxe with:
-        Deluxe Only Games!
-        The ability to buy Deluxe items in the W-Shop!
-        Access to exclusive areas like Vacation Island, the Magical Forest and Zumwhere!
-        EStore exclusives & discounts!
-        Bonus classes!
-        More jobs!
-        Unlimited Questions at Quizzy's, Signature Safari and Discovery Zone!
*Free players will not have access to KinzChat PLUS, Trading Rooms, sending items through KinzPost, adding rooms to the house or the ability to turn off ads during a Deluxe Preview. Monthly Gift Boxes and eStore points will not be awarded to all non-Deluxe players during the Preview.
Full Members:
Don't worry -
If you are already a FULL member, you will continue to enjoy all the benefits of Full Membership PLUS Deluxe Membership during this period!
Deluxe Members:
To show our appreciation for your continued loyalty, on the next Deluxe Day, April 11, 2020 you can get a bonus gift of Melting Chocolate Wallpaper by visiting Today's Activities which can be accessed through the Thing To Do menu. Look for the Melting Chocolate Wallpaper and click on it to have it added to your Dock. Please note: this item is non-tradeable/non-sellable/non-sendable.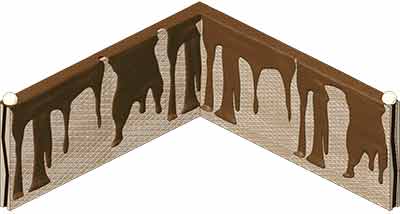 Just one more way to let our players know how much we appreciate you!
So fab. So fun.