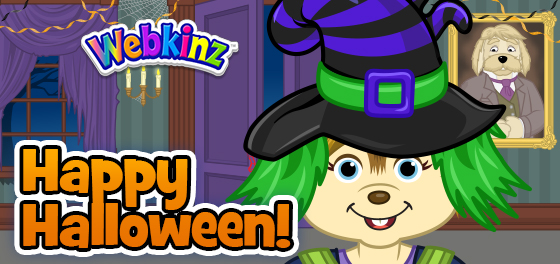 What a booooo-tiful day to take part in all of the fun Halloween activities happening around Webkinz World!
Don't forget to log in today to have your Halloween Treat Bag added to your Dock! When you drag it into your room, your 3 Halloween prizes will be added to your Dock.
You'll also be able to spin the Halloween Super Wheel! Spin the Super Wheel through Today's Activities which can be accessed through the 'Things To Do' menu (web only).
Today is the final day to catch two floaty-clickies flying around Webkinz World. Look for the bat floaty clicky and click on it to get a Hanging Bat Plushy you can hang on your pet's wall. The Jack-O-Lantern floaty clicky gives out a random costume piece. Both of these events are limited to 1 prize a day for free players, 2 for full players and 3 for Deluxe Members.
It's also your last chance to pick up items from the new Trick or Treat room theme in the WShop and the Haunted Castle room theme in Mobile Zone on the Webkinz Mobile app.
The new Weremonster has been busy planting candy trees in Kinzville Park! If you stop by the Park today to pick a Ghost Gummy from the Ghost Gummy Candy Tree, you'll also be helping to complete our Halloween Community Challenge – if 5,000 members of the Webkinz community visit the Park, we'll give away a code for Haunted Hotel wallpaper on Webkinz Newz tomorrow!
And of course – it's not Halloween without a visit to the Ghost in the Reading Room in the Clubhouse! How many candies have YOU collected so far? Have you won the Grand Prize? Tell me about it in the comments below.
Be sure to log in so you don't miss any Halloween fun!
So fab. So fun. So frightening!!!