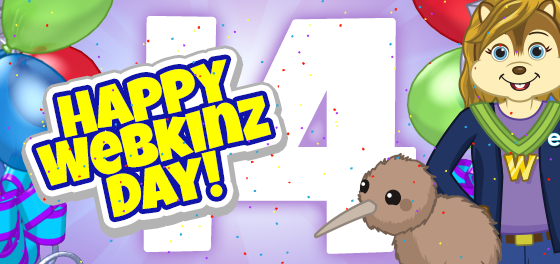 It's my first Webkinz Day as mayor and I couldn't be any more excited about it! Webkinz is celebrating 14 years and of course if it's Webkinz' birthday, that means gifts for YOU! Be sure to log in today to get your Webkinz Day Gift Box 2019! Inside you'll find a trophy, a group print, and a special piece of cake!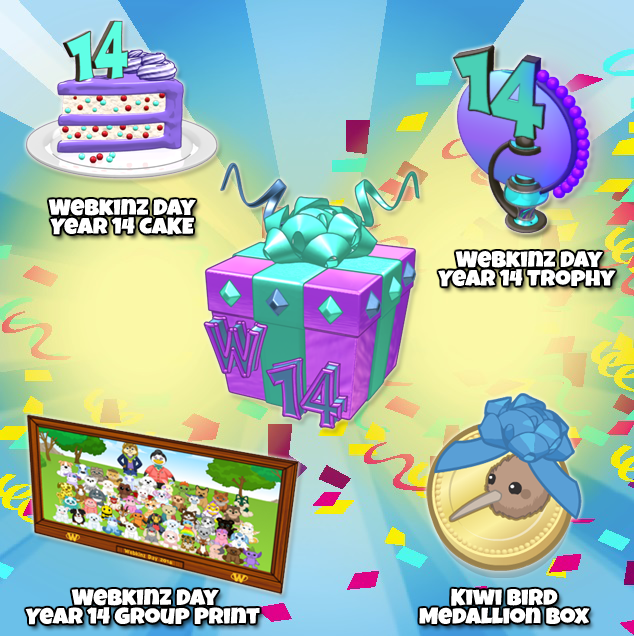 Plus, this year when you log in, you'll also receive 25 Kiwi Bird Medallions! Kiwi Bird Medallions are floating through Webkinz World all throughout the month of April, and the 25 you receive today might just put you over the top so you can adopt this adorable pet, designed by Webkinz player lolypop1412.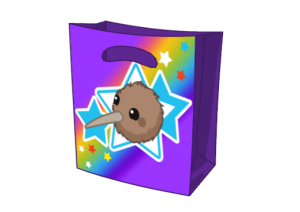 And speaking of Kiwi birds, the Webkinz Newz gang has been planning a party to welcome this pet to Webkinz and you're invited! If you completed your Kiwi Party Challenge, you can dress up one of your pets in your new Kiwi outfit, or just bring your Kiwi Bird (or any pet!) to the Webkinz Newz Room in the Clubhouse today, April 29, 2019. Click on the Kiwi Bird in its PSI, the Great Eggscape Hot Air Balloon to get a loot bag that includes some cute Kiwi prizes and a Kiwi Bird Medallion!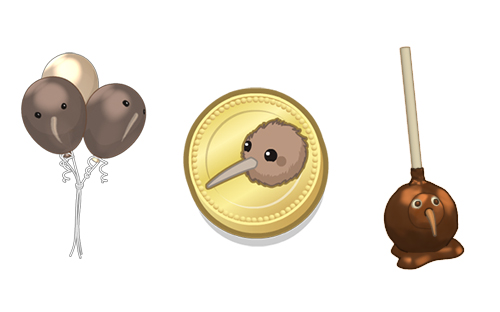 Plus, everyone who logs in on the web today will get a chance to spin the Super Wheel!  You can access the Super Wheel through Today's Activities. Here's what you might win: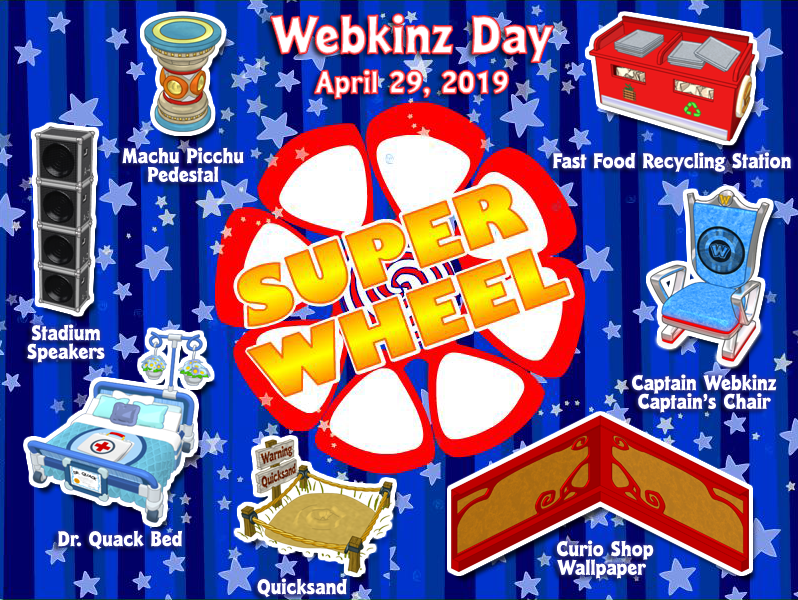 ***PLEASE NOTE: If you are using Edge as your web browser, you won't be able to spin the Super Wheel. We recommend using a different web browser today.
And Webkinz Day 2019 is a Deluxe Preview Day. That means that all Free and Full members get a chance to enjoy the perks of Deluxe Membership for one day!*
But as your mayor I have to say that the best part of Webkinz Day – or any day for that matter – is getting to spend time and play with all of you!
So fab. So fun.

*Free players will not have access to KinzChat PLUS, Trading Rooms, sending items through KinzPost, adding rooms to the house or the ability to turn off ads during a Deluxe Preview. Monthly Gift Boxes and eStore points will not be awarded, and My Page Deluxe features will not be available to all non-Deluxe players during the Preview. Full Members: Don't worry – If you are already a FULL member, you will continue enjoy all the benefits of Full Membership PLUS Deluxe Membership today!