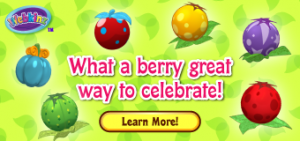 Sweet News!  The Berry Festival has begun and runs until July 28th. And this year we've got some fun new prizes and events that are sure to sweeten your day!
Log into Webkinz World every day and watch for:
Goo-Goo Berries
Moonberries
Sugarberries
Pickleberries
Jumbleberries
Polarberries
When you click on one of the floating Berries you'll receive a Berry that you can feed to your pet.
You can also complete the Berry Festival Challenge by clicking on the Challenge Icon in your room! Earn berries in Jumbleberry Fields, feed berry items to your pet, try your hand at jam-making, and earn prizes by completing other fun tasks! If you complete the goals by September 1 you'll win a Berry Market Fridge!
During the Berry Festival you'll also receive a FREE Berry Building Kit! This awesome Building Kit lets you ask friends for items to help build an amazing Jam Packing Station!
Ganz eStore is getting in on this sweet Festival too! During the Berry Festival the eStore will be selling three machines that dispense Jumbleberry Jam, Sugarberry Jelly and Pickleberry Relish. You can also buy a rustic sign for your Garden and Seed Packs that let you grow Berries yourself!
Plus – you can collect Jam Jars by visiting www.webkinznewz.com and clicking on the floating Jam Jar! You never know which flavor of Jam Jar you'll receive so be sure to visit every day for a chance to win them all!  Learn More!
So get ready to collect all the Berries when they come floating through Webkinz World between July 13th and July 28th. It's going to be Berry Berry fun!