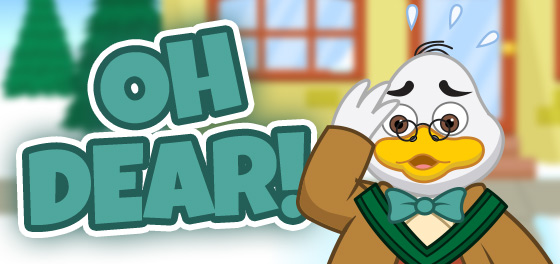 UPDATE: Whoops! Dr. Quack got so caught up in the holiday festivities that one of his community codes didn't get updated! The code for the Dr. Quack's Old Timey Icebox will be re-activated on January 9, after the release, and will remain active until January 18.
We apologize for any inconvenience. HAPPY NEW YEAR!!
____________________________________________________
Oh dear! Poor Mayor Dr. Quack took on so much a couple of weeks ago with his Meet the Mayor event, Town Hall hand-out, and Community Challenge, that he made the mistake of posting the wrong end date on his Community Code prizes from the challenge! The date had been set to November 30, not December 31 as Mayor Dr. Quack thought.
But never fear – after Webkinz Classic's next update on December 15, the end date for the codes will updated to December 31, so anyone who has not yet entered their codes will still get their prizes!
So hang onto your codes and come back after the update to get your prizes. Mayor Dr. Quack is very sorry for any inconvenience!