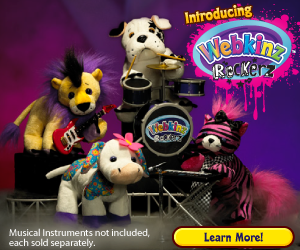 Is your pet ready to rock?!
There are four fantastic new Webkinz Rockerz plush pets available now!
Each of these awesome Rockerz Pets comes with its own pet-specific exclusive item and food, as well as a totally rockin' exclusive Pet Specific Outfit.
What's the best part? You get an exclusive Rockerz Challenge!
Registering a Rockerz Pet is your ticket to an exclusive Rockerz Challenge. Once the Challenge gets rolling you'll receive a Backstage Pass which awards you an exclusive prize. Complete the Challenge to receive your VIP Pass. Both Passes can be traded in for items from a brand new Rockerz room theme!
Which of these pets do you want to rock out with?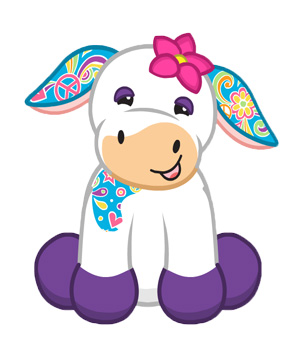 Webkinz Rockerz Cow
The Webkinz Rockerz Cow is one divine bovine that loves to move and groove to a rockin' beat! This udderly-awesome rock star can try out their latest vocals on the Groovy Solo Stage! But make sure you stock up this superstar's dressing room with lots of their favorite snack, some Flower Powdered Sugar Cookies!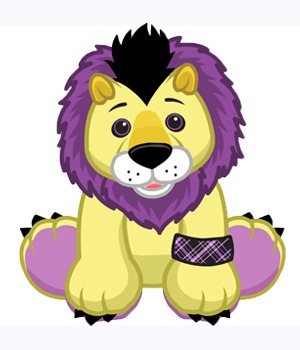 Webkinz Rockerz Lion
The Webkinz Rockerz Lion always sets the stage for a great performance with their roaring vocals! Nothing helps to amp up their show like the perfect pyro provided by their Shock Rock Flare! Keep the growl in their voice and away from their stomach by serving up their favorite meal, some Heavy Metal Meatballs!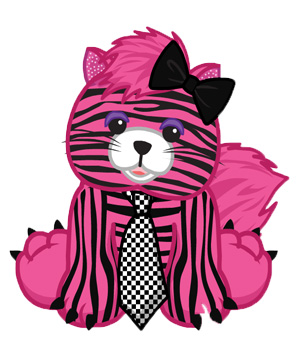 Webkinz Rockerz Cat
The Webkinz Rockerz Cat is one funky feline that loves to perform! Also a particular perfectionist, make sure you give them plenty of time in front of their Dressing Room Vanity before each show, and don't forget to serve up a plate of Funky Fish Sticks to keep them purring along!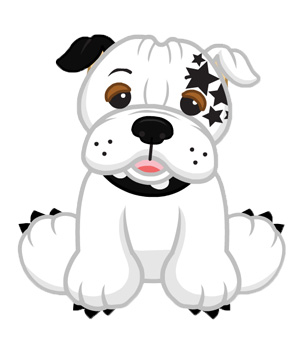 Webkinz Rockerz Bulldog
The Webkinz Rockerz Bulldog is one cool canine that only follows the beat of their own drum! Of course it helps that they are one dynamic drummer with their very own Rockin' Drum Set! And once this hound is finished head-banging, they like to refuel with their favorite food, a serving of some creamy Mosh Pitatoes!
These pets didn't wait for sound check, they've already hit the stage! You can get plush versions of these shreddin' pets starting today!