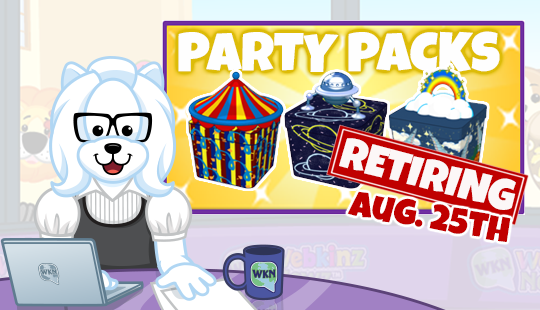 Due to ongoing technical issues with Webkinz Party Packs, that often cause them not to start, they will be retired from the W Shop at midnight, August 25th. Any Party Packs that you currently own will remain in your Dock and can still be used, however we cannot guarantee that they will work properly, due to these ongoing issues.
Even though this feature is being removed, the party continues in Webkinz World! You can always meet up with your friends at the Kinzville Park and at the Webkinz Clubhouse, and it's always fun to challenge your friends to games at the Tournament Arena. You'll also notice that some of the loot bag prizes will be appearing on Webkinz prize wheels in the future.
Don't forget to keep the party going by downloading the Webkinz Desktop Application, so you can enjoy Webkinz for years to come!
This has been Ella McWoof, reporting for Webkinz Newz.