We love sharing gifts with our players at holidays and we're so pleased to share this printable Christmas Card with a gift that YOU can share too! This card makes the perfect way to introduce your friends to the magic of Webkinz!
Featuring the adorable Gingerbread Elf (have you visited the Elf in the Park today?) The card includes a FREE code for a never-before-released item, the beautiful Mod Holiday Wreath!
Mod Holiday Wreath!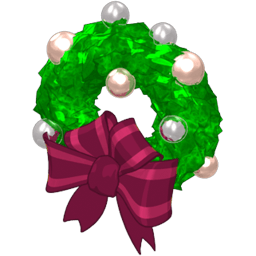 The code expires on May 31, 2021 at midnight EST so be sure to tell your friends to claim it before then.
You can redeem this code by entering it at the Code Shop, which you can find in the Things To Do menu on webkinz.com. And the prize is limited to 1 item per account.
Just print out your card and, follow the guides, fold along the center of the page horizontally and then along the center vertically.
Then give the gift of Webkinz! (Oh, and don't forget to add the code to your own account while you're at it!)
Click here to download the card. Or click on the card image at the top of this post.
HAPPY HOLIDAYS FROM ALL OF US AT WEBKINZ!