The countdown to Halloween is on! To get your pets ready for trick-or-treating, let them pick up some treats from this spooky printable calendar including 13 FREE codes for items from the Freaky Forest Theme as well as a brand new item, the Monster Candy Bag that your pet can wear!
Every day between October 19 and 31, log into Webkinz (web only) and enter that day's code in the Code Shop. The codes are valid for one day only so be sure to log in every day.
Click here to download the printable PDF.
Check out the prizes and in case you have trouble reading the codes, you can find them below!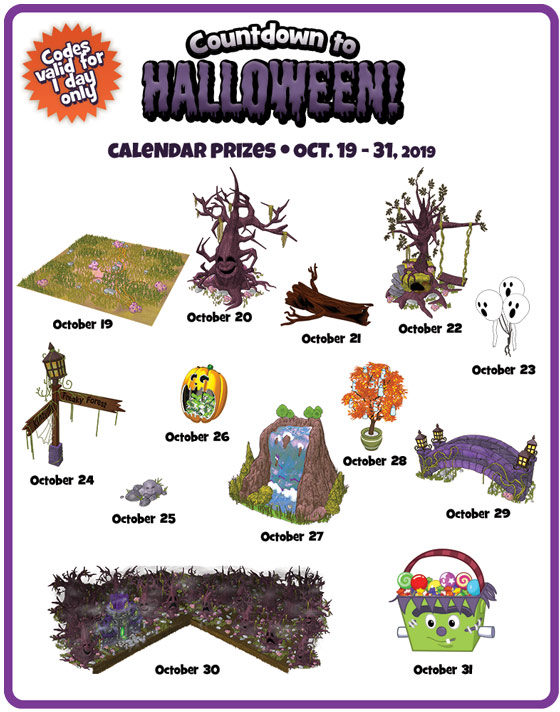 Oct. 19    W24N-MTRW-KVNW-VSYY     Freaky Forest Floor Tile
Oct. 20   W249-UGBH-TXNJ-JJQ2       Hollow Tree
Oct. 21    W247-UWM2-7EWF-F4YC     Fallen Log Couch
Oct. 22   W24V-7F7V-MYN2-XYYC       Scary Tree Swing
Oct. 23   W24Y-AGPW-4UCB-5CL8       Spooky Bunch of Balloons
Oct. 24   W24W-GN5L-HVWY-K2SQ     Freaky Forest Sign
Oct. 25   W24U-222W-SHVJ-HHJN      Freaky Forest Rocks
Oct. 26   W24V-NKF2-PBZC-JE9U       Candy Bowl Fridge
Oct. 27   W24D-ZQ97-864H-USCA       Freaky Forest Waterfall
Oct. 28   W24Q-NRKX-95LF-YNJL      Ghostly Potted Maple
Oct. 29   W24V-ZLCF-GFPV-TGXQ      Weathered Stone Bridge
Oct. 30   W243-55JZ-NTC6-MG6W      Freaky Forest Wallpaper
Oct. 31   W246-5QLW-TU4A-3TYC      Monster Candy Bag