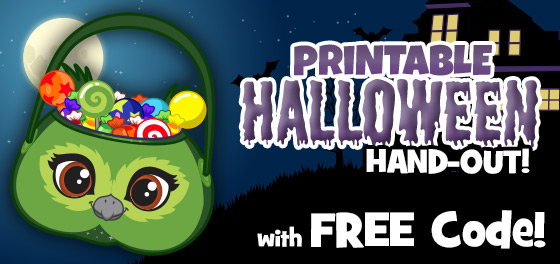 It's a treat bag within a treat bag! This year's printable Halloween Handout that you can hand out to trick-or-treaters – is actually an adorable treat bag! When you're handing out treats, include a FREE Community Code for the Jolly Owl Candy Bag!
Print off these FREE code sheets to hand out with your Halloween candy, and take them to school to share with your friends!
You, your friends, and all of your trick-or-treaters can enter this FREE code into the Code Shop when you log into Webkinz.com. Each code is valid for one Jolly Owl Candy per webkinz.com account and expires at midnight EST on March 31, 2021.
So share the Pet-rifying fun! Print out your FREE codes and give your friends and trick-or-treaters a real treat!
Click the image below for a printable PDF!