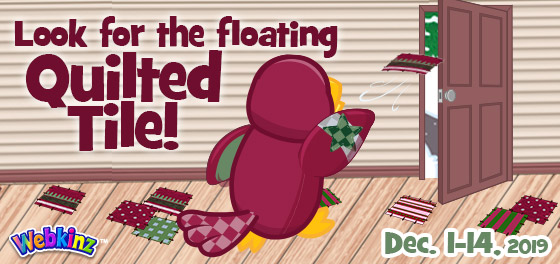 When the new Quilted Robin was working on a quilt, a winter wind blew the door open and blew all Robin's quilt patches away! Now the Robin needs your help to finish a quilt to keep Webkinz World warm!
Watch for the floating quilt tile blowing through Webkinz from December 1 to 14. Click on the tile to have a Quilted Tile added to your dock. There are five different patterns to collect.
When you place the Quilted Tiles on the floor in your pet's room, you're helping to create a quilt that will keep Webkinz warm throughout the season! Deluxe members can catch up to six tiles a day, full members can catch up to four, and free members can catch up to three tiles a day.
Plus – there is a special Quilted Robin Tile that you can only find floating on Webkinz Newz!