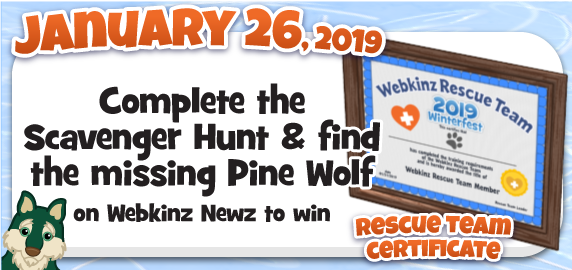 You did it! The Webkinz Community fed your pets 3000 Hot Chocolates to win:
Chalet Wallpaper
W24K-JSPD-VBM7-XVY8
Enter the code at the Code Shop on Webkinz.com. Code awards one item per Webkinz account and expires at midnight EST on March 31, 2019.
Today is the day you've been working toward all week. Your final test. A Pine Wolf has been stranded in the hills and you have to find it by completing the Scavenger Hunt on Webkinz Newz. If you find the Pine Wolf and complete your training you will receive a code for a virtual Rescue Team Certificate that you can hang in your pet's room. Plus – you can download a printable version of the certificate to hang on your wall!
Click here to download the printable Rescue Team Certificate!
Good luck, recruits!
Missed previous codes? Find them here:
Chalet Window W248-FEML-86QS-3TFN
Chalet Chair W24V-J58E-BJ2M-YSN2
Rescue Team Desk W24R-NM2C-X7S6-SUL6
Chalet Flooring W245-KDJF-HDC3-53Q2