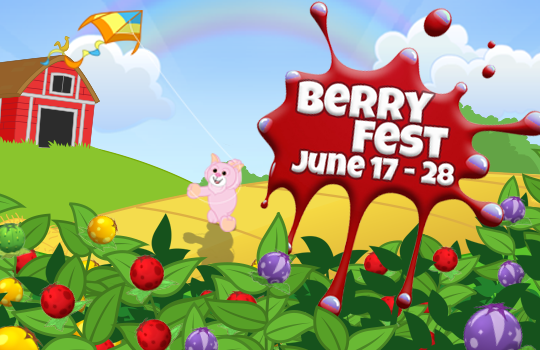 From June 17 – 28, celebrate Berry Fest in Webkinz World by collecting berries! There are several ways you can collect them:
Look for the floating Jumbleberry in Webkinz World and click on it to win a random berry. (limit to 6 berries per day, 9 for Deluxe players)
Spin the Wheel of Yum daily at Today's Activities for the chance to win more berries. (web only)
Visit Mayor Sophie Stockwell at the Kinzville Park every day during Berry Fest and click on her to get a basket of berries. When you drag the basket into your room, you'll be awarded a berry. (web only)
From June 17– 28, look for a floating basket of berries right here at Webkinz Newz, and click on it to have it sent back to your Webkinz account. Drag the basket into your room to get a bonus berry!
There are 6 berries that you can collect during Berry Fest. You'll have the chance to find Jumbleberries, Sugarberries, Pickleberries and Moonberries which you can use to fill up your Jars of Preserves at Jumbleberry Fields in the Arcade. You'll also have the chance to find Goo-Goo Berries and Polarberries that are ONLY available during Berry Fest.
Each time you feed your pet a Goo-Goo Berry or Polarberry you'll win a prize. Click on a button below to learn more about Berry Fest and find out what you can win:




You'll also get a bonus play of Jumbleberry Fields every day of Berry Fest. You'll be awarded the Bonus Play when you log into Webkinz, but it won't appear in your Dock. It will be available the next time you play Jumbleberry Fields.