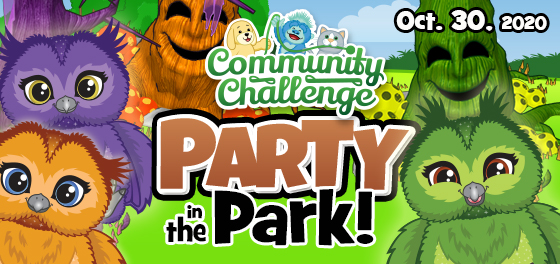 You might have heard that the Lil Owls have been getting Kinzville Park ready for a Halloween Party! But guess what? And to help pull it together we're also running a community challenge that day!
Here's how it works:
On Friday, October 30 – the day before Halloween – dress up your pet in their favorite costume and bring them to Kinzville Park! (We'd love to see lots of Vampire Panther costumes that day to welcome the adorable cub to Webkinz World!)
If we get 30,000 visitors to Kinzville Park on October 30, 2020, the next day we'll give you a code for a free prize! Just come to Webkinz Newz after 9:30 am on October 31 to see if you won!

And – since the next day is Halloween, what could be more perfect than an adorable Tricky Owl Candy Bag that your pet can use for trick-or-treating?
So be sure to join us in Kinzville Park on October 30, 2020 to help the Webkinz Community earn this sweet prize!