Hello Webkinz Newz readers, Michael Webkinz here with a special report!
The New Year has arrived, so I thought it would be fun to find out what the Newz Team's Webkinz New Year's resolutions were. I didn't have to wander far for my interviews… I found Sally, Steve and Mandy working on some Newz stories of their own, here at Webkinz Headquarters.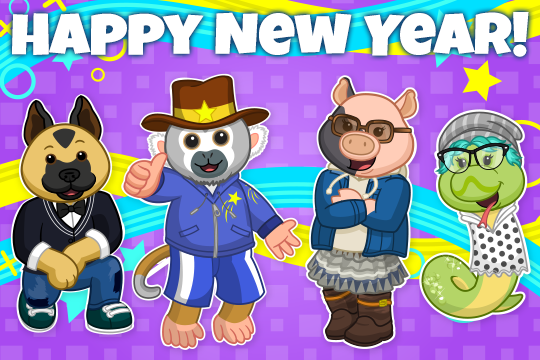 I spoke to Steve first. It seems like he's going to be spending a lot of time at the Curio Shop:
STEVE WEBKINZ: Happy New Year Michael and great question! I would have to say that my goal for 2018 is to get a Crown of Wonder for each of my pets.
Steve won't reveal exactly how many pets he has but you know it's got to be a lot. Steve is famous for his unboxing videos where he reveals all the new Webkinz that are released by adopting them on his account… Good luck Steve!
Sally was excited to reveal her Webkinz New Year resolution. She actually came up with three. It's going to be a busy year for Sally Webkinz:
SALLY WEBKINZ: Hi Michael! Hmmm… I actually have 3 resolutions for this year. First of all, I want to get 3 stars on all of the Goober's Atomic Adventure levels. I'd also like to get my Family Score up to 250,000. Finally, you know how much I love to crochet so I really want to find the time to crochet a Wacky Zingoz plushy!
All great goals Sally… Thanks for sharing them with us! You'll love the KinzCash Machine which is the prize for earning 250,000 Family Score points. You'll be able to click on it to get free KinzCash every day!
Finally, I found Mandy looking through several Webkinz outfits that were sent to her by some talented players. I thought her resolution would be fashion related but it turns out she had a similar goal to one of Sally's:
MANDY WEBKINZ: Happy New Year Michael! I am determined to get three stars on Goober's Atomic Adventure Level 6, Area 3! I've been trying for months and I've managed to get three stars in every other level, but that is the one level that has me stumped! Fingers crossed for 2018!
A big thank you to the Newz team for sharing their New Year's resolutions with us. In case you are wondering, my goal for 2018 is to collect all the prizes from the SPREE mall. I'm still missing a few of the more expensive items and no doubt they'll be new prizes released again this year.
What is YOUR Webkinz New Year's resolution? Let us know by leaving a comment below.
This has been Michael Webkinz reporting for Webkinz Newz…