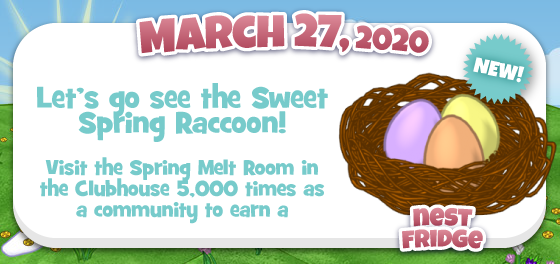 You did it! The Webkinz Community reached the goal! Here is your free community code:
Hidden Egg*
W24B-BR89-9HT5-TBTN 
Above is your next task in the Spring Melt Community Challenge! Remember – you don't have to do it all on your own. We count the entire Webkinz community's activities toward the goal.
Come back to Webkinz Newz tomorrow morning after 9:30am to see if you reached the goal. If you did, you will get another free code!
Missed previous days' codes? Find them here:
Robin's Egg Shades: W24J-YM6J-EW5A-V3HY
Spring Celebration Egg Bouquet: W244-VCXV-RGKF-GBQA
Bird's Nest Wreath: W248-YC8E-GBJ2-Z9KW
To get your prize, log into your Webkinz.com account and enter this code in the Code Shop, which can be found under the 'Things To Do' menu. Code awards one item per Webkinz account and expires at midnight EST on July 31, 2020.