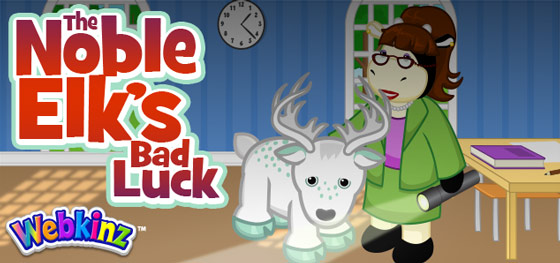 There's a majestic new pet in town but the Noble Elk has gone into hiding! The Noble Elk tried visiting the Academy when it first arrived in Webkinz World but there a was a mishap and the power went out. When the Elk looked at today's date on the calendar – Friday the 13th - it was sure that bad luck had struck and took off for its new room in the Clubhouse. Now it won't come out!
Ms. Cowoline tried to assure the Noble Elk that there is no such thing as bad luck no matter what day it is. She discovered someone had simply pulled out a plug at the Academy. She tried to tell the Elk it was an accident and that there was no harm done, but by that time the Elk was gone.
Let's convince the Noble Elk that it has nothing to worry about. From September 13 to 29, go and visit the Noble Elk room in the Clubhouse. The Noble Elk is there, handing out Chocolate Wish Tokens to try and bring good luck back to Webkinz World.
Look for the Noble Elk challenge in Webkinz World and complete part 1 to win a Kinzville Academy Hoody!
Ella is trying to get to the bottom of who pulled the plug. Read her article in the newspaper in Webkinz this Saturday!