The brand new Lucky Coin event starts today (March 9th) and runs until St. Patrick's Day! Here's how to play: look for the floating Lucky Coin Box on Webkinz.com and click on it to get a coin (limited to 3 coins per day, per account).
***The floating Lucky Coin Box will not appear in the Arcade, Adventure Park or your Pet's Room
There are 8 coins to collect. 6 of the coins are Chocolate Colored Jelly Coins that can be fed to your pet. The other 2 coins are special KinzCash collector coins featuring Lucky the Leprechaun! The Lucky Silver Coin can be sold at the W-Shop for 100 KinzCash and the rare Lucky Gold Coin can be sold for 500 KinzCash!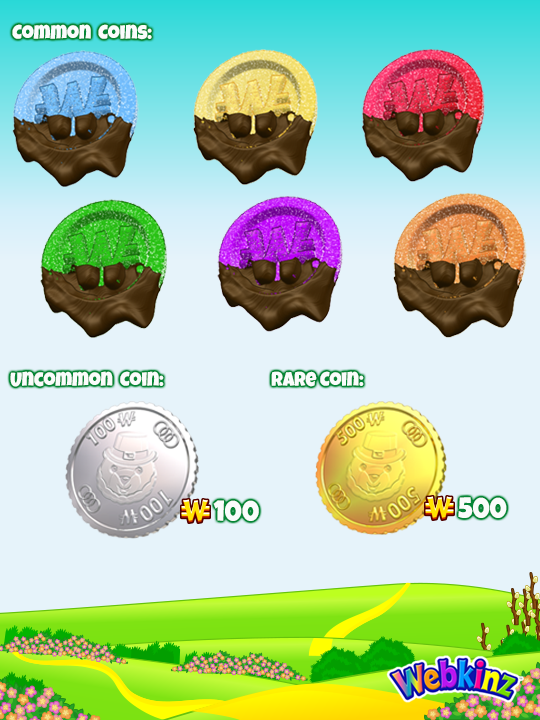 The Lucky Silver and Gold Coins are hard to find which makes them collector's items. So, you may just want to hold on to them instead of selling them at the W-Shop. They can also be traded and sent through KinzPost so make sure you log into Webkinz.com each day of this event to collect as many coins as you can!
Want extra coins for your collection? From March 9 – 17, look for the BONUS floating Lucky Coin Box right here on WebkinzNewz.com and click on it to send a Lucky Coin Box to your Webkinz World account. Drag and drop the box into your pet's room to open it! (Limited to 1 BONUS coin per account, per day).
Have you found a Lucky Gold coin? Let us know by leaving a comment in the section below…