If you missed this event last year, or failed to collect enough medallions, you're in luck! The Snowy Retriever Puppy Pet Medallions will start flying across your screen on December 1st! If you adopted this adorable pet last year, you can try winning a second one during this event… I'm sure your pup wouldn't mind a brother or sister to play with!
Here's how it works: From December 1st – 31st, look for floating Snowy Retriever Puppy Medallions in Webkinz World and click on them to add them to your collection (limited to 4 medallions a day, 5 for Deluxe players). You'll need 100 to adopt this pet, so be sure to play every day for the chance to get as many medallions as you can!
To make it a little easier, you'll get 25 Snowy Retriever Puppy Medallions on Christmas Day. You'll find them in your 2019 Christmas Gift Box.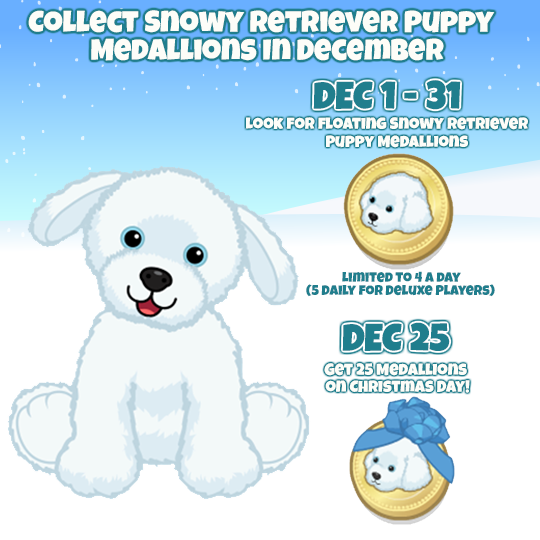 When you open your 2019 Christmas Gift Box, a special Snowy Retriever Puppy Medallion will be added to your Dock. Drag and drop it into your pet's room to collect your 25 medallions! Remember, you can always keep track of how many Pet Medallions you have collected by clicking on the MEDALLIONS tab in MY PETS.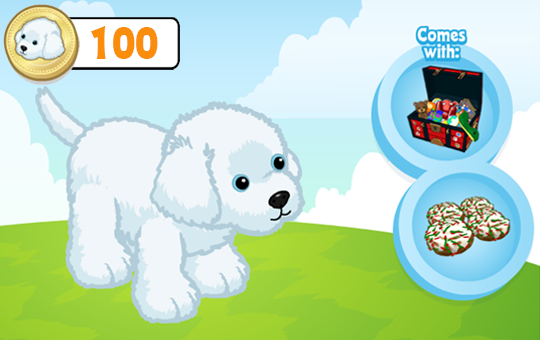 Did you already adopt the Snowy Retriever Puppy last Christmas? Let us know by leaving a comment below…