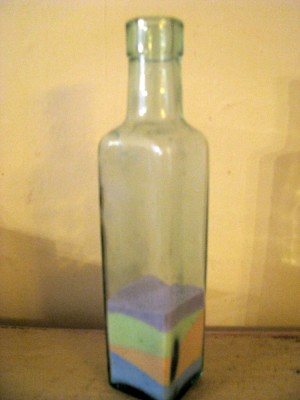 What you need:
-          Small glass bottles with lids, cleaned and dried well
-          Sand
-          Chalk, in a variety of colors
-          Wax paper
-          Funnel
What you do:
1.       Sprinkle some sand on wax paper. Roll over sand with chalk until sand is coated in color. Transfer to plastic container. Repeat process with different colors of chalk, until you have several containers of sand in a variety of colors.
2.       Using funnel, pour one color of sand into your glass bottle. Turn the bottle to the side slightly to get an interesting angle, and then add another color of sand.
3.       Keep adding different colors until the bottle is filled to the very top. (If you leave any air in the bottle, your colors will shift more easily.)
4.       Put lid on tightly.