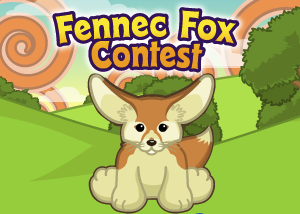 Open to Webkinz World players residing in the USA and Canada (some exceptions apply).
The Fennec Fox didn't always have such large ears, but one day decided to get a makeover… tell us how the Fennec Fox ended up with such large ears in 1000 characters or fewer, and you could win an eStore exclusive Fennec Fox virtual pet (the "Prize")!
The contest opens at 12:00am EST on May 6, 2011 and ends at 11:59 pm EST on May 8, 2011. For details on how to enter the contest and the official contest rules, click here.
Visit the Contests page when the contest opens and fill out the form to enter to this contest. Comments do not count as entries.