Millie Pig is Molly's adorable little sister. Even though she's only five, she's got a discerning eye for detail. When she asked for Elwin and I to redecorate, we were only too happy to oblige! Her old room was really too babyish for her. She needed a definite upgrade – something more fun, funky and definitely more pink and light green (her favorite colors).  She also requested 'something with flowers' – no problem, Millie! We've got you covered!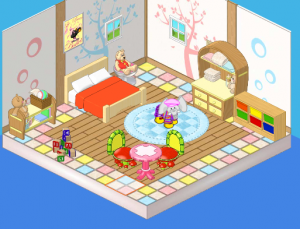 Yup, this is definitely too baby-ish for a five-year-old.
Here's what we came up with!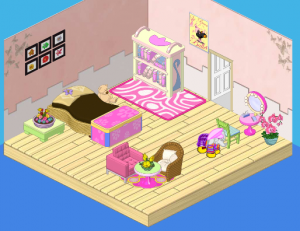 The walls are pretty and pink, Millie's huge book collection has a home on her bookshelf. The walls are a pale pink, and have butterflies in the corners. When Millie asked for flowers, we went a little over-the-top – and added tons of blooms to her room! We've got a little makeup mirror for playing pretend, and all of Millie's toys are hidden in her toy box. When Millie saw her room, she couldn't believe the change. "It's SO BEAUTIFUL!" she said. And the best part is that this room will grow with Millie.