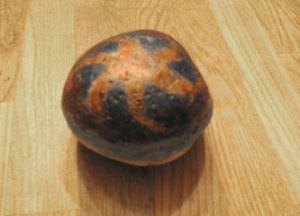 What you need:
-          Smooth rocks
-          Crayons with paper wrappers removed
-          Oven mitts
-          Adult Assistant
-          Plastic cutting board to work on
You will need an adult assistant to help you with this craft.
What you do:
1.       Have your adult assistant preheat your oven to 350°.
2.       Heat rocks for 15 minutes and, reminding your adult assistant to use oven mitts, transfer to plastic cutting board.
3.       Being careful not to touch hot rocks, 'paint' the rocks with crayons (the crayon wax will melt when it touches the hot rock and make a beautiful design on the rock!)
4.       Don't touch the rocks until they're totally cool.