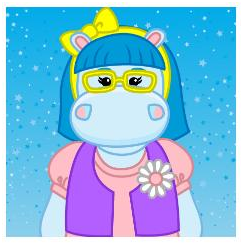 Dear Plumpy,
Hi! Camp is totally awesome!!!  I have been having a great time so far. I am sharing a cabin with Roberta, Cowabelle, Molly, Polly and Sally.
The only thing that is NOT so good about camp is that tomorrow we are supposed to start our swimming lessons. I know you think I'm a big baby when it comes to water, Plumpy, but I can't help it. Water IS scary. The water in the lake is really dark and cold. And there are FISH in the lake! It's not like swimming in a pool at all! And what if the other kids laugh at me? Maybe they're all really great swimmers and they're going to think I'm lame because I can't swim very well at all.
Oh, Plumpy – I'm really scared. I wish I didn't have to do swimming at camp. Everything else at camp is so much fun. Why does this one stupid thing have to ruin it?
Love you,
Nibbles