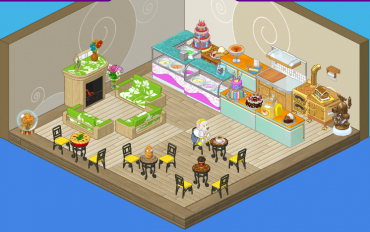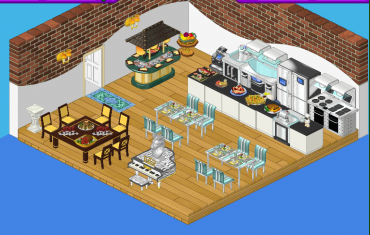 By Cowabelle Cowoline
Whenever there's an important occasion in my life, my mom and I go to celebrate by having dinner at Le Snout and dessert at La Soufflé. These wonderful eateries are run by two fabulous chefs, Chef Gazpacho and Chef Sophia. I was lucky enough to sit down with them and ask them about their restaurants!
CC: Thanks so much for agreeing to speak with me! It means a lot.
CG: No problem!
CS: Glad to help.
CC: First, I wanted to ask both of you: when did you know you wanted to be chefs?
CG: For me, it was when I was a little piglet. I would help my mom out in the kitchen. I LOVED it! My mom always encouraged me to cook – especially when I got good at it! She thought it was great that she'd come home from work and I'd have dinner on the table. Some recipes were a bit more…interesting…than others, but she always thanked me for my effort!
CS: My story is a bit different. When I was little, I thought I might be a biologist when I grew up. As the years passed, though, I found myself cooking more and more – and enjoying it more than anything else. Biology is an interest of mine, but cooking is my passion. When the time came to get a higher education, I knew I had to be a chef.
CC: You two knew each other back in cooking school, right?
CS: Oh, yes. I knew Chef Gazpacho. I actually followed his career after we graduated. He always seemed to be lucky in business.
CG: Working as Fluffington's personal chef was my first real job, so that was pretty amazing. I did get a little bit lucky. Fluffington gave me a loan to start Le Snout.
CC: It wasn't so easy for you, though, was it Chef Sophia?
CS: Definitely not. I worked for other Webkinz, in lots of different restaurants. I learned a lot along the way, and I saved up as much as I could. My dream was to open a restaurant of my own. When I found a place here in Kinzville, I knew it was perfect.
CC: Except that Chef Gazpacho was right next door.
CS: Well, yes.
CG: But we worked it out!
CS: It took some time and thinking, but we realized that both of us have specialties – Chef Gazpacho is wonderful at main courses. And I, of course, am the queen of desserts.
CG: No argument there.
CC: What's the hardest part about running a restaurant?
CG: Being innovative. Everyone always wants something new, while also wanting you to keep the old standbys on the menu. It's not easy.
CS: I'd tend to agree with that. But it's also one of the most enjoyable parts – it's challenging to come up with something delicious and new.
CC: Would the two of you ever go into business together?
CG: I think we value our friendship too much.
CS: We work best when we have our own places. But I AM very glad we're right next door.
CC: One last question: Chef Gazpacho, what's the best dessert Chef Sophia makes, and Chef Sophia, what's the best dish Chef Gazpacho makes?
CG: Her chocolate fudge cake is the best thing I've ever eaten.
CS: His ophidian callaloo is the most exquisite soup you'll ever taste.
CC: Thanks to both of you!