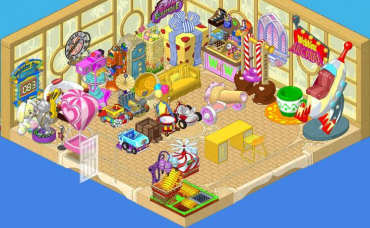 By Polly Panda
My sister, Amanda, works at the coolest place in Kinzville – the Wish Factory! The Wish Factory has this amazing machine. Amanda stocks the machine with totally awesome, exclusive items from Webkinz World and when you save up enough Wish Tokens, you can put your tokens in the machine and it will give you whichever prize you wish for. How cool is that?
The Wish Machine was designed by Goober. There were these super cool collectible coins that pets would get by doing certain activities in Webkinz World. Even though they were really cool coins and everyone loved winning them, Goober thought that it might be kind of neat to actually use them for something. So he got to work in his lab and created this absolutely wild machine!
Around the time that Goober invented the machine, my sister, Amanda, was looking for a job. Her friend, PJ Collie had just started work at the KinzStyle Outlet and Ella McWoof was working as a reporter so Amanda went to Tabby Von Meow to try and find a part time job. Tabby knew that Goober wanted to get back into the lab, and running the Wish Factory was taking up too much of his time – it was starting to get really popular. So Tabby got Goober and Amanda together for a meeting and Goober agreed that Amanda would be perfect for Wish Factory.
Amanda just loves helping pets make their wishes come true. She says nothing is better that seeing the joy on someone's face when they finally get to make their Wish.
And what's even cooler is that Goober came back a while after he invented the Wish Machine and showed Amanda this neat crystal ball. Every day one pet can have their wish come true just by clicking on the crystal ball. It's called the Wish of the Day. I go into the Wish Factory every single day to try my luck at it. I haven't won yet, but I know that if I keep going, maybe one day I can win the Wish of the Day.
I know that Goober would say it's simply science, but I think the Wish Factory is pure magic!