Inside the Pirate Cove ?? Box you may find one of these items:
Have your pet set sail on their very own handmade Pirate Cove Raft! It was carefully crafted from some shivering timbers!
This not-so-secret Pirate Cove Cave is the perfect place for your pet pirate pet to plot their next plunder! They'll enjoy warming up by the fire after those long days drenched in sea spray!
Roll out the barrel when your little pirate pet wants to celebrate their latest plunder with the glorious Fizzy Ginger Soda Dispenser! Yo-ho-ho me mateys!
Your pirate pet won't want to wander too far from their treasure hoard before it's buried! Set up a sentry to make sure nobody makes off with their loads of loot with the Pirate Cove Treasure Perch!
Gather all of your pirate pets around the Pirate Cove Campfire to swap stories of adventure on the high seas! Just make sure no one spills any secrets!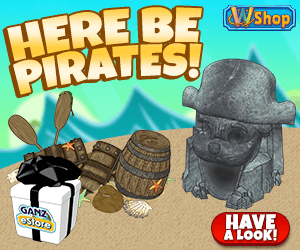 You may find the Pirate Cove ?? Box and other September Specials at eStore starting September 1, 2017!