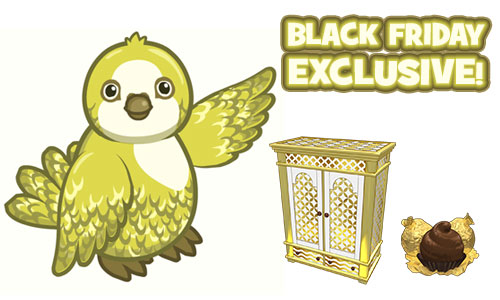 Black Friday is almost here and this year we have a very special pet for everyone.
The Turtle Dove is such a sensational seasonal pet that you might just want to pick up a pair of before Christmas! This darling dove is quite the snappy dresser, so make sure you store all of those fabulous outfits inside their Gold Sparkle Wardrobe! And when they're feeling peckish, feed that hunger with some glamorous Gold Wrapped Truffles!
The Turtle Dove will be available on GanzeStore.com and in the W-Shop and will be sold exclusively during the Black Friday weekend, November 24-26, 2017. The sale price for this spectacular pet is 12,500 eStore Points and Deluxe users can get it for 10,000 eStore Points.
Don't miss your chance to add this special pet to your Webkinz family!
The Turtle Dove also looks great in the Gold Sparkle room theme – check the clubhouse for a peek!